With more than 60 Stressless recliner configurations, choosing the Stressless recliner that's right for you may seem overwhelming. However, once you understand the options and how to evaluate what works for you and what doesn't, you will be able to narrow down the selection to your two or three favorite chairs in very little time. Here's the good news: We've been fitting Stressless recliners for customers for 30+ years, and have Sarasota's most complete Stressless recliner gallery where you can sit to find your perfect fit and see all the available options.
Although there are no hard and fast rules when it comes to selecting the right Stressless chair, understanding the key comfort components provided below will give you a head start when you start shopping.
Understanding the Size Options
Except for a few exceptions, each style of Stressless Recliner is available in three sizes — small, medium and large. This degree of customization is unique and extremely important. Achieving the right fit is essential if you want a chair that will provide outstanding support and comfort. A common question we get sounds like this, "I'm 5'8″. Which size chair do I need?" There's more to the perfect fit than your height.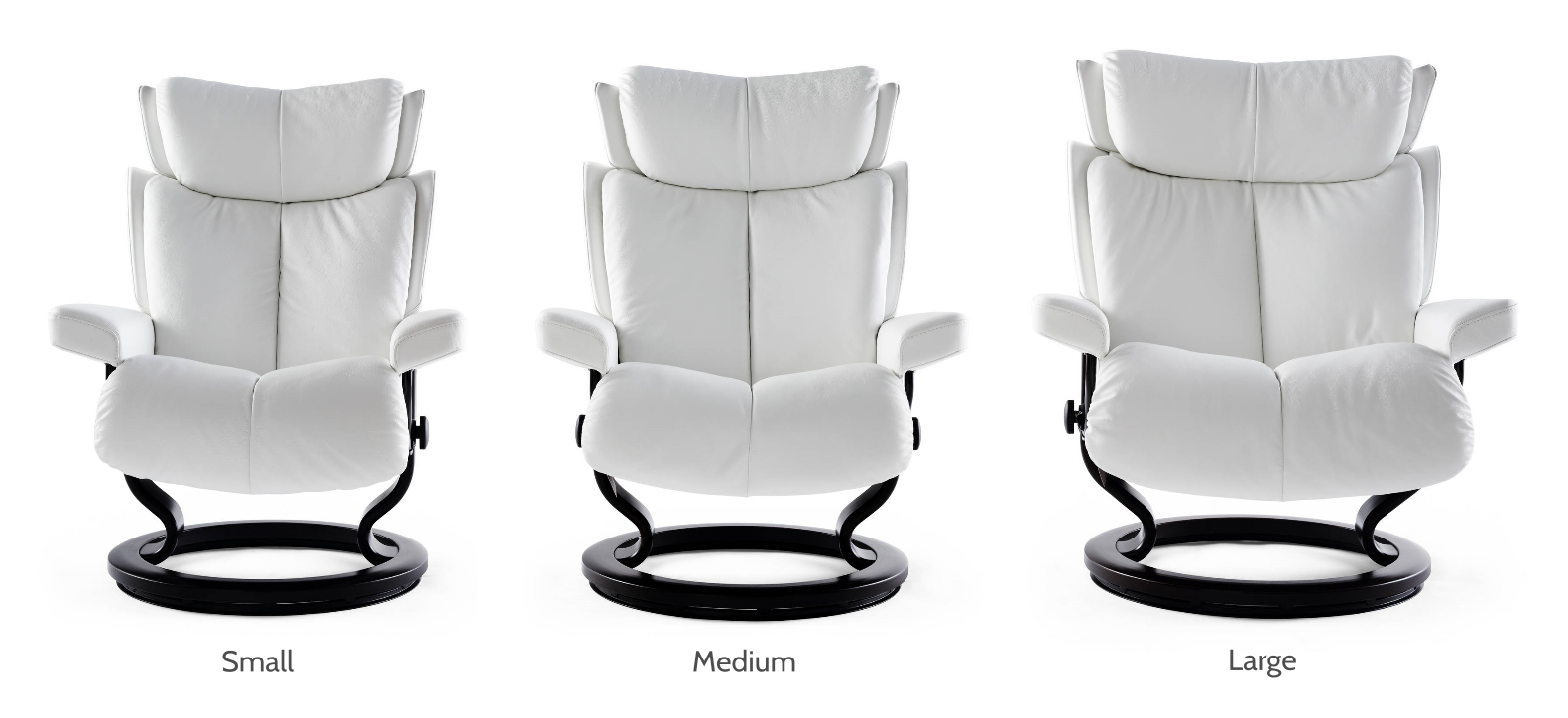 Height is just one of the factors to consider when choosing the size of your Stressless recliner. Body type, length of torso and personal preferences are other bit factors. After years of helping customers select Stressless Chairs and hearing feedback, we feel confident stating that the placement of lumbar support and neck/head support should be the most important factors when selecting a chair size. Since the depth of the seat and the height of the back change with each size (as does the width of the chair), the placement of support changes from one size chair to another.
When testing a chair at Copenhagen Imports Stressless Comfort Gallery, close your eyes and focus on how your back and neck feel. Do you feel comfortable? Do you feel supported? Try sitting upright and in a reclined position. Think about what you will do in the chair, such as watching TV or reading, and try those activities in the chair. Always try the size larger and/or smaller for the sake of comparison (even if you feel 100% confident you know your size).
Our experienced sales consultants are here to help. After working with these chairs for many years, they can point out differences in the fit and support while you sit in the chairs.
Here's a little tip: Have someone look at you while you're sitting in a Stressless recliner. Your eyes should be approximately at the same level as the top of the chair. So, the top of your head should be a few inches above the very top of the chair back.
So Many Chair Styles!
Yes, there are many styles to choose from. Here's what you need to know: Each style has a unique mold that is used to shape the foam. Each style will actually feel different. The level of cushioning varies from one chair style to another as well. You may find drastic differences in comfort from one chair style to another. Make sure you take a seat and compare a few different styles of Stressless recliners.
A feature that is available on some chairs (but not all) is the height adjustable headrest. For taller folks in particular, this feature can be necessary, as it allows you to increase the height of the chair back. Also, some chairs run shorter in the back while some run taller in the back. Some are wider and some are narrower. It is actually possible that a medium is the right fit for you in one chair style, while the large is the right fit in another.
While test sitting the chairs in a Stressless Gallery, don't let the look of the floor samples sway your comfort decision. Keep in mind that every Stressless chair style is customizable. You can choose the covering, base style and finish on every Stressless chair style.
Three Base Options
Classic, Signature and LegComfort. These are the three most popular base options. Classic has been around for many years. The newer Signature and LegComfort introductions provide exciting new features that weren't available in the past. Below is an explanation of what each base has to offer.
Classic Base
The Classic Base is a clean, Scandinavian look that has been around for decades. It is the least expensive option, but it doesn't not allow any extra movement (such as rocking). However, it does swivel and the footrest pivots to provide angle adjustment.
Signature Base
The Signature Base has super-sleek polished aluminum accents that pair beautifully with your selected wood finish. In addition, it has a mechanism that allows you to rock slightly and swivel effortlessly. The mechanism also allows for a slightly deeper recline. You may notice that the arm height is a bit higher on chairs with the Signature base. For some, this adds some additional support and comfort. The arms are also slightly angled. The seat height is a bit higher as well.
LegComfort
If you don't have room for a footstool in your space, the new LegComfort is a great option. This base has an integrated footrest that is controlled by discreet touch buttons on the side of the seat. This all-in-one design can be a great option for some. One drawback is that you cannot adjust the length of the footrest. (When the footrest is separate, you can control the length by moving it closer or further away from the chair.) The LegComfort base is only available on medium and large size chairs.
Additional Base Options
If the Classic, Signature and LegComfort bases aren't quite what you're looking for, there are a couple of additional options.
The Stressless Office base allows you to bring the comfort of Stressless to your work space.
The 5-star base offers a simple, contemporary look. Styles with a 5-star base are also available as low back chairs. We especially like grouping these together to create cozy and casual areas for visiting with family and friends.
The Final Touches
Once you have spent an adequate amount of time trying different sizes, styles and base options, and you feel you have found "the one", then it is time for the fun part! We're referring to the part when you get to look at leathers, fabrics and wood stains.
While you're searching for the right Stressless recliner, take the time to try out different options. Come to Copenhagen Imports' Stressless Gallery in Sarasota. Bring a book or an iPad so you can really spend some time sitting. You can get started by viewing all of the Stressless Chairs on our website. Contact us to learn more about these exceptional chairs.